Canadian Marriage Certificate Authentication and Legalization for International Use
If you need to use your Canadian Marriage Certificate abroad, it must be authenticated and legalized. This document validation process is also referred to as Apostille or Attestation in some countries, but it is recognized as the equivalent. As experts in international document services, we often receive questions about obtaining an Apostille Marriage Certificate in Canada. Here are some key points to keep in mind.
Marriage Certificate Apostille in Participating Countries
If a foreign country has requested a Marriage Certificate Apostille, it is because they are part of the Hague Apostille Convention. Unfortunately, Canada is not part of this agreement, but we use an equivalent and older process of authentication and legalization. Both processes allow important documents like marriage certificates to be recognized as valid for their intended purpose abroad.
Reasons to Obtain an International Canadian Marriage Certificate
You may need an authenticated and legalized marriage certificate for various reasons such as a visa application, immigration, registering your marriage abroad, or relocating with your spouse. Regardless of the reason, we can help. We have been providing authentication and legalization services for marriage certificates for 30 years for countries like the UAE and Qatar (known as Attestation), or Mexico and Spain (known as Apostille).
Global Affairs Canada Marriage Certificate Authentication Requirements
Before Global Affairs Canada will authenticate your marriage certificate, it must be issued by a provincial government vital statistics office and be an original certificate or long-form type. Global Affairs Canada will not authenticate certificates signed and given at your wedding ceremony or wallet-sized certificates, as they are too small or notarized copies. If you are unsure about the type of certificate you have, our consultations can help you determine the right type.
Ordering a Canadian Marriage Certificate for International Use
If you need a new marriage certificate or want to ensure you have the right type, you can easily order one from a provincial government vital statistics office. Some clients choose to have the certificate sent directly to our office to expedite the authentication and legalization process.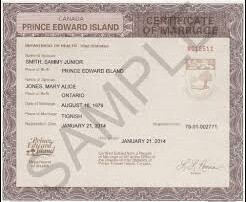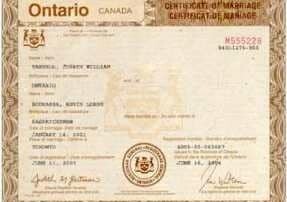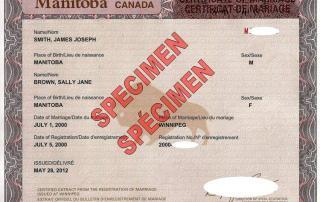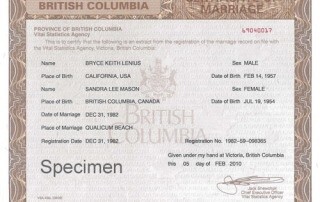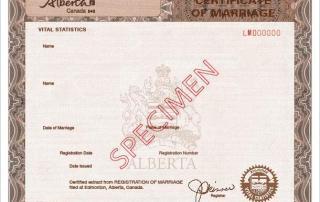 Step 1: Authentication at Global Affairs Canada
To ensure your marriage certificate is accepted as a Marriage Certificate Apostille abroad, it is important to have the right type of certificate for the country you are using it in. The first step of the process is authentication by Global Affairs Canada Authentication Services Section. They will examine the signature on the certificate and authenticate it with the Government of Canada's Authentication Stamp if it meets their requirements.
It's important to start the authentication process as soon as possible, as processing times are longer than ever at Global Affairs Canada. You can find out their current processing time here.
Step 2:

Legalization at the Embassy Consulate

The second step is legalization by the embassy or consulate of the country where you will be using the certificate. Embassy consulates, located in Ottawa, charge a fee for legalization services and may have changing requirements or processing times. When you use our document legalization services, we handle all the details and ensure a smooth and timely process. After legalization, we can return the certificate to you or send it to its final destination using our document shipping options or your preferred method.
Other Canadian Documents for International Use
If you need your marriage certificate authenticated and legalized, you may also require the same for other documents like a birth certificate, death certificate, degree, divorce certificate, or police check. We can help authenticate and legalize these and more, so feel free to reach out to one of our friendly agents for more information.
International Canadian Marriage Certificate FAQ's
As Canada's experts, Legalization Certificate of Origin can help you get your Canadian Marriage Certificate ready for international use by providing you with 30 years of experience with the most up to date knowledge about the rules and regulations of Global Affairs Canada and the Embassy. Not only will Legalization Certificate of Origin help you process your documents quickly we also make it easy by guiding you through each step providing you with the up to the minute status of your documents using our Online Status Tracker. Talk to one of our experts on how to get your Marriage Certificate accepted internationally and get the experts working for you.
Dependent on the purpose of the Marriage Certificate in the foreign country, you might need to get your Birth Certificate, Divorce Certificate, Police Check, University Degree and other documents also Authenticated and Legalized. You will first need to confirm with the requesting party in the foreign country which additional documents you will need to provide with your Marriage Certificate. If the requesting party is an Embassy Consulate in Canada, you will need to contact them directly to confirm which other documents they will require from you
No, as per the Global Affairs Canada rules and regulations, only an original Marriage Certificate issued by a Canadian Provincial Vital Statistics Department can be authenticated. A notarized or certified copy made by a Canadian Notary Public cannot be authenticated.
There are different styles of Canadian Marriage Certificates such as a Marriage Licence Certificate or Certificate of Marriage but its important to remember the one you got from your wedding ceremony is not your official marriage certificate. The provincial statistics department of the province where you married issues the official marriage certificate. If you need to order a Marriage Certificate you can find links on our resources page on how to do it.
A Canadian Marriage Certificate is initially only valid for use in Canada therefore a foreign country will not accept a Canadian Marriage Certificate. To make the Marriage Certificate valid for use in a foreign country, it will first need to go through the process of Authentication at Global Affairs Canada and then Legalization at the Embassy Consulate of the country in which the document will be used. In both steps the authenticity of the foregoing signature is verified, effectively making the document valid for use in that foreign country. Some countries might ask you to get your Marriage Certificate Apostilled since that is the process most used in that foreign country. Since Canada has not signed the Hague Apostille Convention, the original two-step process of Marriage Certificate Authentication and Legalization is considered the international equivalent of an Apostille and serves the same purpose.
Currently you cannot get an Apostille for a Canadian Marriage Certificate. Since Canada has not signed the Apostille Convention the original process of Authentication and Legalization is still used to make a Canadian document valid for use in another country. Your Marriage Certificate will therefore first need to be authenticated by Global Affairs Canada and then legalized by the Embassy or Consulate of the country in which you will be using the Marriage Certificate. These two steps of authentication and legalization together are the equivalent of an Apostille in other countries.
Most Vital Statistics Departments have an option to have the Marriage Certificate sent directly to a third party such as Legalization Certificate of Origin. Once you have been in contact with one of our agents regarding your request and confirmed how you want to proceed, we will provide you with our mailing address where the Marriage Certificate can be sent. A few Vital Statistics Departments, such as the Quebec État Civil, do not allow your Marriage Certificate to be sent directly to a third party. In this case the Marriage Certificate will need to be delivered to you first, then you can send it to us for Authentication and Legalization.