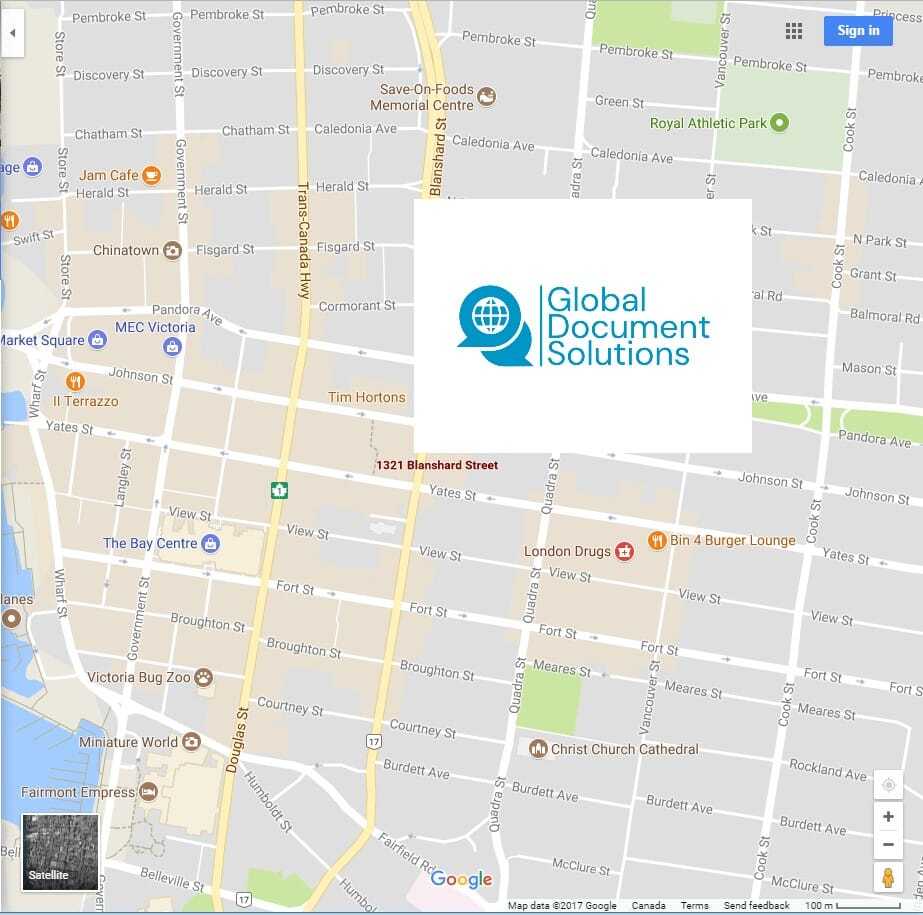 Victoria Apostille or Authentication & Legalization Service
Welcome to the Victoria Global Document Solutions Service Center, located at Suite 301 – 1321 Blanshard Street, where Canadian documents are prepared for international use. For 30 years, we have assisted clients from around the world by providing them with an international document expert. Our highly skilled specialists can help you with any type of Canadian document, whether it requires an Apostille, Authentication, Legalization, or Attestation.
We regularly process a wide range of documents for clients in the Greater Victoria Region, including BC Birth Certificates, Marriage Certificates, Death Certificates, Police Checks, University of Victoria Degrees, Personal or Corporate Power of Attorney, and Incorporation documents, among others.
To receive assistance, simply reach out to us via our Service Quote Request, phone, or email. One of our specialists will assist you in getting your important documents ready for Authentication at Global Affairs Canada and Legalization at the relevant Embassy in the country where they will be used. If you are located in Victoria, Saanich, Langford, Colwood, Sidney, or any other area within the Greater Victoria Region, our Victoria Service Center is easily accessible for you to drop off your documents. We also provide overnight delivery to our Ottawa National Headquarters, eliminating the need for a trip to the post office.
We Can Help You With Your International Document!
If you have been asked to Apostille your documents, don't worry, as the combination of Authentication and Legalization in Canada is equivalent to the international Apostille process. The difference between Apostille, Authentication, and Legalization is that Apostille is a one-step process that makes your documents valid for use in all countries that have signed the Hague Apostille Convention, while Authentication and Legalization is a two-step process that validates your documents for use only in the country at the Embassy Consulate where they were legalized.
Global Affairs Canada Authentication and Embassy Legalization
The most commonly authenticated documents for our clients at Global Affairs Canada and legalized at Embassies in Canada include BC Birth Certificates, BC Marriage Certificates, and BC Death Certificates, also known as Vital Statistics Documents issued by the British Columbia Vital Statistics Department. You can order as many copies as you need of these vital statistics documents, and we can help you get them ready for international use.
We also process other documents for use abroad on a daily basis, including University of Victoria Degrees, British Columbia Incorporation documents, Police Checks, and Power of Attorney. Our specialists can assist you in getting any document authenticated at Global Affairs Canada. If you are unsure if your document is suitable for authentication at Global Affairs Canada, our consultation service will confirm it. Our verification before drop-off at the Victoria Service Center ensures that Global Affairs Canada will authenticate your documents, giving you peace of mind while we take care of the rest.