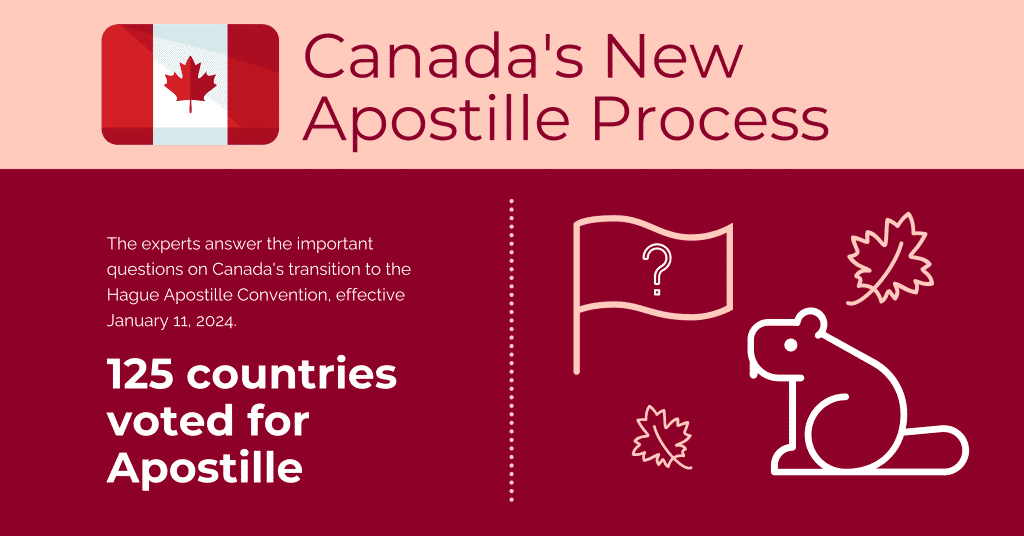 Apostille Canada: A New Chapter for Authentication Services
The complex landscape of document verification for international use often hinges on two pivotal concepts: Apostille and Authentication. As we explore Apostille services in Canada and the role of Authentication, we're excited to share a groundbreaking update that will reshape the verification process in the country.
Canada's Path to The Hague Convention
Previously, while many nations adhered to the Apostille process defined by the Hague Convention, Canada wasn't a participant in this international treaty. Rather, it operated on a two-step process known as Authentication and Legalization, which functioned as its equivalent to Apostille.
However, in an exciting development, Canada has recently become a signatory to the Hague Apostille Convention. This pivotal move will take effect from January 11, 2024, signifying a shift in the country's approach to document validation for international purposes.
Prior Process: Authentication and Legalization
The process begins with Authentication, wherein the signature, seal, or stamp on the document is verified for authenticity. This operation is undertaken by Global Affairs Canada, located in Ottawa. After authentication, the document is primed for the second step – Legalization.
Legalization is the concluding step where the authenticated document is presented to the embassy or consulate of the foreign country in Canada. The embassy then verifies the document and affixes their stamp or seal, marking the document as legalized and ready for use in that particular foreign nation.
The Future of Apostille Services in Canada
With the forthcoming adoption of the Hague Convention, the Apostille process will replace the current Authentication and Legalization system. This significant change may affect how service providers operate in Canada. However, the key aspects to consider when choosing a service provider remain:
Experience and Expertise: A provider with a successful document processing history and expertise in various document types is critical.
Fast and Efficient Service: Timely international document processing is key. Choose a provider that maintains high-quality and accuracy, even with a swift turnaround time.
Transparent Pricing: Opt for a service provider that offers straightforward pricing, without hidden fees or unexpected charges.
Personalized Customer Support: A responsive customer support team can ensure a stress-free experience by addressing your specific needs throughout the process.
The Benefits of Hiring a Professional Service in Canada
While the system will evolve with the new document certification process in Canada, the advantages of partnering with professional service providers endure:
Streamlined Process: Expert providers will adapt swiftly to the Apostille process, ensuring accurate and efficient document processing.
Time-Saving: Entrusting professionals with the process can save your valuable time, letting you avoid navigating through new requirements and procedures.
Global Network: Professional providers' connections with various embassies and consulates can expedite the process.
Peace of Mind: Leaving your documents in experienced hands gives you peace of mind, enabling you to focus on other aspects of your international endeavors.
FAQs
We've compiled a list of frequently asked questions to shed more light on the subject.
What does it mean now that Canada has joined the Hague Convention?  With Canada joining the Convention, documents intended for international use no longer need to undergo cumbersome legalization procedures for other member countries. Instead, a single Apostille certification suffices.
Does this mean that all documents are accepted universally now?  Not all documents, but public documents like birth certificates, marriage certificates, court orders, and educational documents or Powers of Attorney.
Does an Apostille guarantee the content of the document?  No, it does not verify the content. It only authenticates the origin of the document by confirming the signature and capacity of the person or authority that issued the document.
Is an Apostille required for all countries?  No, only for the countries that are members of the Hague Convention. For non-member countries, the traditional legalization process is still in place.
What does the new Canadian Apostille Certificate look like? Below is an example of what the new Canadian Apostille Certificate will look like.
When will Global Affairs Canada start to issue Apostille Certificates? Global Affairs Canada announced on May 16, 2023 that the Hague Convention will come into effect on January 11, 2024.
How long does it take to get an Apostille in Canada? Once introduced we expect it will be similar to the current authentication times at Global Affairs Canada. It's important to keep in mind that the time can vary depending on the nature of the document and the workload of the issuing authority. It's always best to check with Global Affairs Canada for an accurate timeline.
How much does an Apostille cost in Canada?  Global Affairs Canada has not announced if or whether there will be a fee when they start to issue Certificates starting January 2024.
What countries will accept an Apostille from Canada? Any country that has signed the Hague Convention Country accepts an Apostille from Canada see a list of the countries here.
Is Global Affairs Canada the only place I can get an Apostille in Canada? No, the provinces of British Columbia, Alberta, Saskatchewan and Ontario have been named as competent Authorities to issue Certificates In Canada.
Conclusion Trust The Experts @ Global Document Solutions
As Canada readies itself to implement the Hague Convention, understanding this new phase of Apostille services is crucial for the successful validation of your documents. By selecting an adept and professional service provider, you can ensure a seamless transition, saving time and effort, and ensuring peace of mind.