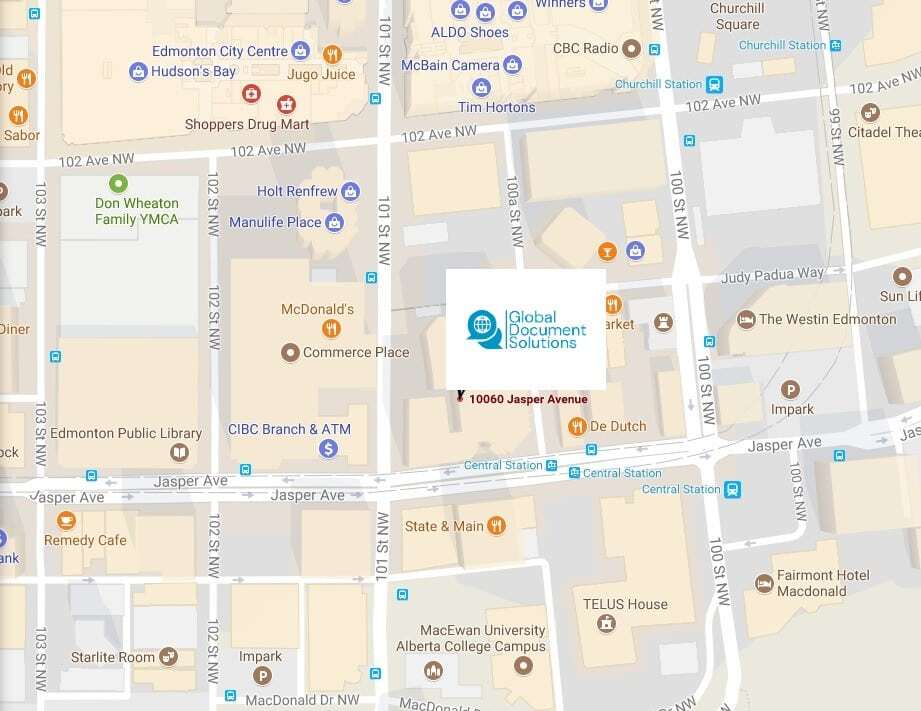 Edmonton Apostille or Authentication & Legalization Services
The Global Document Solutions Edmonton Service Center, at Suite 2020 -10060 Jasper Ave, Tower 1, has been providing international certification services for personal and commercial documents for over 30 years. Our experienced team of professionals has processed various Alberta-issued documents such as birth certificates, marriage certificates, university degrees, international powers of attorney, certificates of origin, commercial invoices, and corporate documents, among others. To start the process of validating your document for international use, reach out to Global Document Solutions today.
We Can Help You With Your International Document!
Before addressing the possibility of obtaining an Apostille in Edmonton, it's important to understand what it is. Official documents used in a country different from their origin must be validated to be recognized. This validation process removes the burden from the foreign government or individual, ensuring that the document is legitimate. In some countries, this process is referred to as Apostille, as they have signed the Hague Apostille agreement along with other countries to follow a uniform process. People may refer to it as an Apostille Certificate, Apostille Stamp, or Apostille Seal, but they all mean the same thing. It's important to note that an Apostille is not possible for Canadian-issued documents as Canada has not signed the Apostille agreement. Instead, it uses the original process of document validation, which is equivalent and accepted. If you are asked to get an Apostille, reach out to a specialist in the Canadian document validation process, Authentication and Legalization.
Alberta Authentication of Documents
As it's not possible to get an Apostille for Canadian documents, let's talk about document authentication, the first step in validating an Alberta document internationally. There are two ways to authenticate an Alberta document. The first is through the Alberta Deputy Provincial Secretary's Office located at Room 111, 9833 109 Street, Edmonton, Alberta, T5K 2E8. They will authenticate the signature of the Notary who signed the document and attach a certificate to confirm it. However, many of our clients find that the Alberta Certificate of Authentication is not necessary for validating a document for use in a foreign country as most embassy consulates don't have a functioning presence in Alberta. There is only one country that requires an Alberta Certificate of Authentication, and if that's the case for your document, Global Document Solutions can help with the process. The second and internationally preferred way to authenticate an Alberta document is through Global Affairs Canada in Ottawa.
Authentication of Documents at Global Affairs Canada
Global Affairs Canada can authenticate most official Alberta-originated documents, including originals, notarized copies, and documents sworn by an Alberta Notary. Depending on the type of document, there may be specific requirements that must be met for Global Affairs to authenticate it. Our experts will review your document and determine if it qualifies, providing you with options on how to proceed. If you're unsure if your document is suitable for authentication at Global Affairs Canada, our consultation will confirm it.
Legalization at Embassy Consulate – Final Step of International Document Validation
After your document is authenticated, the final step is legalization at the embassy consulate of the country where it will be used. This step is also referred to as Attestation or Super Legalization in some countries, but they all mean the same thing. The legalization confirms the authentication signature and stamp of Global Affairs Canada, and in most cases, the embassy will sign and stamp the document with its official seal. After both authentication at Global Affairs Canada and legalization at the embassy, the document can now be used in that country for official purposes.
While you may opt to handle the process on your own, our services, which are backed by a guarantee and preferred by many of our clients for their expertise in handling the details, make us a convenient choice for most.