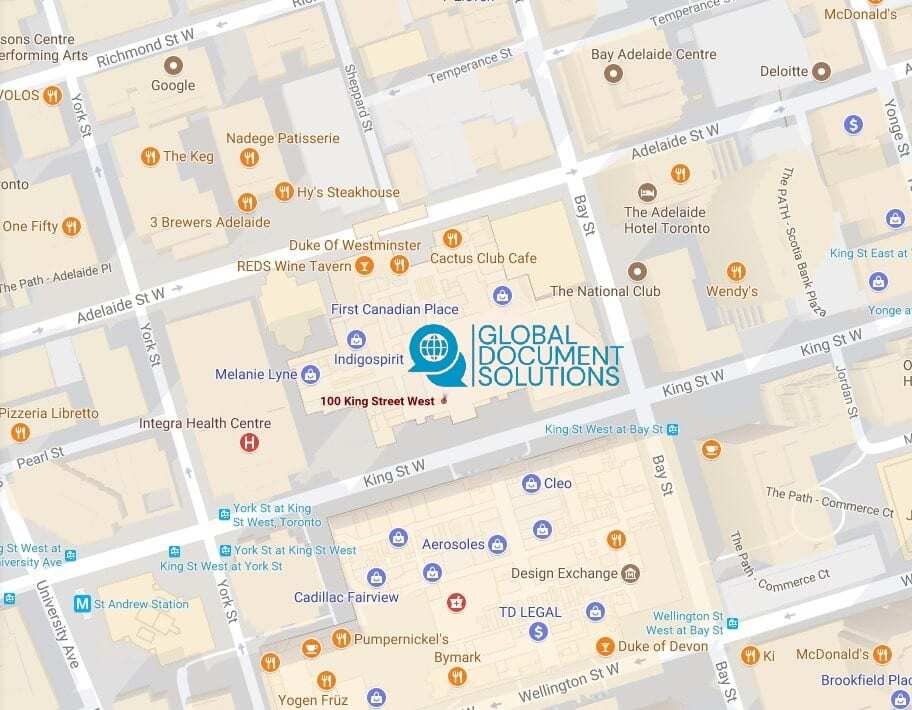 Toronto Apostille or
Authentication & Legalization Services
Are you a resident of the Greater Toronto Area and in need of obtaining an Apostille or Authenticate and Legalize a Canadian document for use abroad? The process of authentication and legalization of Canadian documents for international use can be confusing and overwhelming. With over 30 years of experience, Global Document Solutions is here to help simplify the process for you.
It is crucial to validate Canadian documents for official use in foreign countries to ensure the authenticity of the document. This includes but is not limited to Canadian Birth Certificates, Marriage Certificates, Death Certificates, Degrees, Police Checks, Corporate Documents, and Powers of Attorney. If you are located in Mississauga, Brampton, Markham, Vaughan, Richmond Hill, or Oakville, our team is ready to assist you at our Global Document Solutions service center located at 100 King St West, Suite 5600 in Toronto.
We Can Help You With Your International Document!
Authentication and legalization are the processes used to validate Canadian documents for international use. While some countries use the term Apostille, both terms are equivalent and refer to the validation of documents for international use. Our team is here to guide you through the process and ensure your document meets the necessary requirements for authentication and legalization.
Global Affairs Canada Authentication
The first step in the authentication process takes place at Global Affairs Canada in Ottawa. There are specific requirements for document authentication at Global Affairs Canada, and our team will ensure your document meets those requirements for quick processing. In addition, we offer consultation services to determine the necessary authentication required for your document.
Official Document Services Authentication in Ontario
Another option for document authentication in Ontario is through Official Document Services in Toronto. It is important to note that additional authentication at Global Affairs Canada may still be required. Our team of international document specialists will guide you through the process and determine the necessary authentication for your document.
Embassy Consulate Legalization - The Final Step
Once your document has been authenticated by Global Affairs Canada, it is ready for legalization at the embassy or consulate of the foreign country where it will be used. Each embassy has specific requirements, processing times, and fees for legalization. Our team is knowledgeable of the ever-changing requirements and fees and can assist you in the legalization process.
For those looking for quick and easy Apostille, Authentication, and Legalization services in Toronto, we are here to help. Our team has streamlined the process and will guide you every step of the way.

Toronto Embassy Consulate Contact Information
Consulates: A-L
Afghanistan
Ms Nazifa Langaryan, Consul General
Consulate General of the Islamic Republic of Afghanistan
901-477 Richmond St W
Toronto ON  M5V 3E7
Telephone: 416-385-1033
Fax: 416-385-3810
Website: www.cgoa.ca
Antigua and Barbuda
Mrs. Ann-Marie P. Layne, Consul General
Consulate General of Antigua and Barbuda
601-60 St. Clair Ave E
Toronto ON  M4T 1N5
Telephone: 416-961-3143
Fax: 416-961-7218
Email: info@antigua-barbuda-ca.com
Website:www.antiguabarbudaconsulate.ca
Argentina
Mrs. Maria Amelia Lonardi, Consul General
Consulate General of the Argentine Republic
201-5001 Yonge St
Toronto ON  M2N 6P6
Telephone: 416-955-9075
Fax: 416-955-1857
Email: consarg@ca.inter.net
Website: www.consargtoro.ca
Armenia
Mr. Berdj Richard Sevazlian, Honorary Consul
Consulate of the Republic of Armenia
300 Town Center Blvd, 4th Floor
Markham  ON  L3R 5Z6
Telephone: 905-474-7060
Australia
Ms Portia Maier, Consul General
Australian Consulate General
South Tower
1100-175 Bloor St E
Toronto ON  M4W 3R8
Telephone: 416-323-4280
Fax: 416-323-3910
Email: canada@austrade.gov.au
Website: www.austrade.gov.au
Austria
Mr. Walter Schneider, Honorary Consul General
Austrian Consulate General
1402-30 St. Clair Ave W
Toronto ON  M4V 3A1
Telephone: 416-967-4867
Fax: 416-967-4101
Email:consulate.toronto@advantageaustria.org
Website: www.austro.org
Bahamas
Mr. Gordon J. Feeney, Honorary Consul
Consulate of the Commonwealth of The Bahamas
68 Thorncrest Rd
Toronto ON  M9A 1S9
Telephone: 416-233-6776
Fax: 416-233-6776
Barbados
Mr. Haynesley Benn, Consul General
Consulate General of Barbados
205-110 Sheppard Ave E
Toronto ON  M2N 6Y8
Telephone: 416-214-9805
Fax: 416-214-9815
Email: toronto@foreign.gov.bb
Bhutan
Mr. Graham David Blyth, Honorary Consul
Consulate of the Kingdom of Bhutan
146 Yorkville Ave
Toronto ON  M5R 1C2
Telephone: 416-960-3552
Fax: 416-960-9506
Website: www.bhutancanada.org
Brazil
Mr. José Vicente de Sa Pimentel, Consul General
Consulate General of the Federative Republic of Brazil
1109-77 Bloor St W
Toronto ON  M5S 1M2
Telephone: 416-922-2503 ext. 221
Fax: 416-922-1832
Email: info@consbrastoronto.org
Website: www.consbrastoronto.org
Britain: See United Kingdom
Bulgaria
Mr. Petar Kraytchev, Consul General
Consulate General of the Republic of Bulgaria
230-65 Overlea Blvd
Toronto ON  M4H 1P1
Telephone: 416-696-2420
Fax: 416-696-8019
Email: bulcontor@primus.ca
Website: www.bgconsultoronto.info
Burkina Faso
Mr. Peter K. Large, Honorary Consul
Consulate of Burkina Faso
208-133 Richmond St W
Toronto ON  M5H 2L3
Telephone: 416-867-8669
Fax: 416-867-3079
Burundi
Mr. Howard Crosner, Honorary Consul
Consulate of the Republic of Burundi
190 Jarvis St
Toronto ON  M5B 2B7
Telephone: 416-947-0455
Fax: 416-947-0553
Email: crosner77@eol.ca
Chile
Mr. Roberto Ubilla, Consul General
Consulate General of the Republic of Chile
1801-2 Bloor St W
Toronto ON  M4W 3E2
Telephone: 416-924-0106
Fax: 416-924-2627
Email:consulate@congechiletoronto.com
Website: www.congechiletoronto.com
China
Mr. Bing Xue, Consul General
Consulate General of the People's Republic of China
240 St. George St
Toronto ON  M5R 2P4
Telephone: 416-324-6462
Fax: 416-324-6468
Visa Section: 416-324-9010
Email: chinaconsul_tor_ca@mfa.gov.cn
Websites: http://www.fmprc.gov.cn/eng/
toronto.china-consulate.org
Colombia
Consul General
Consulate General of the Republic of Colombia
507-40 University Ave
Toronto ON  M5J 1T1
Telephone: 416-977-0098
Fax: 416-977-1025
Website: www.embajadacolombia.ca
Comoros
Mr. Richard Lande, Honorary Consul
Consulate of the Union of the Comoros
Telephone: 905-319-1244
Fax: 905-331-8580
Congo (Republic)
Mr. Jean-Michel Itoua, Honorary Consul
Consulate of the Republic of Congo
4th Floor
50 Gervais Dr
Toronto ON  M3C 1Z3
Telephone: 416-315-1549
Fax: 416-391-3969
Email: consulofcongo@yahoo.ca
Costa Rica
Mr. Danilo Gonzalez Ramirez, Consul General
Consulate of the Republic of Costa Rica
400-60 Bloor St W
Toronto ON  M4W 3B8
Telephone: 416-901-5633
Fax: 416-901-5833
Email:toronto.consulate.general@gmail.com
Côte d'Ivoire
Mr. Peter J. Dawes, Honorary Consul
Consulate of the Republic of Côte d'Ivoire
110-260 Adelaide St E
Toronto ON  M5A 1N1
Telephone: 416-366-8490
Fax: 416-947-1534
Email:pdawes@warringtoninternational.com
Croatia
Mrs. Andrea Javor, Consul General
Consulate General of the Republic of Croatia
302-918 Dundas St E
Mississauga ON  L4Y 2B8
Telephone: 905-277-9051
Fax: 905-277-5432
Email: croconsulate.miss@mvpei.hr
Cuba
Mr. Javier Dómokos Ruiz, Consul General
Consulate General of the Republic of Cuba
205-5353 Dundas St W
Etobicoke ON  M9B 6H8
Telephone: 416-234-8181
Fax: 416-234-2754
Website: www.embacubacanada.net
Czech Republic
Mr. Vladimir Ruml, Consul General
Consulate General of the Czech Republic
1500-2 Bloor St W
Toronto ON  M4W 3E2
Telephone: 416-972-1476
Fax: 416-972-6991
Email: toronto@embassy.mzv.cz
Website: www.mzv.cz/toronto
Consulates: D-J
Denmark
Mr. Jess Moller Knudsen, Consul General and Trade Commissioner
Royal Danish Consulate General
2109-2 Bloor St W
Toronto ON  M4W 3E2
Telephone: 416-962-5669
Fax: 416-962-3668
Email: piacha@um.dk
Dominican Republic
Mr. Guillermo J. Estrella Gabriel, Consul General
Consulate General of the Dominican Republic
301-121 Richmond St W
Toronto ON  M5H 2K1
Telephone: 416-369-0403
Fax: 416-369-1685
Email: contoronto@serex.gov.do
Website: www.dominicanconsulate.ca
Ecuador
Mr. Rolando P. Vera Rodas, Consul General
Consulate General of the Republic of Ecuador
450-151 Bloor St W
Toronto ON  M5S 1S4
Telephone: 416-968-2077
Fax: 416-968-3348
Email: ctoronto@rogers.com
El Salvador
Mr. Oscar A. Toledo Soriano, Consul General
Consulate General of the Republic of El Salvador
510-425 Bloor St E
Toronto ON  M4W 3R4
Telephone: 416-975-0684/0812
Fax: 416-975-0283
Website:www.consuladoelsalvadortoronto.com
Eritrea
Mr. Teumezghi Tirfe, Consulate of the State of Eritrea
317-120 Carleton St
Toronto ON  M5A 4K2
Telephone: 416-306-2865 ext. 5
Fax 416-306-2866
Estonia
Mr. Laas Leivat, Honorary Consul General
Consulate General of the Republic of Estonia
282-958 Broadview Ave
Toronto ON  M4K 2R6
Telephone: 416-461-0764
Fax: 416-461-0448
Email: consul@heinsooinsurance.ca
Finland
Mr. Eric Peter Auvinen, Honorary Consul
Consulate of the Republic of Finland
604-1200 Bay St
Toronto ON  M5R 2A5
Telephone: 416-964-0066
Fax: 416-964-1524
Email: toronto@finland.ca
Website: www.finland.ca
France
Mr. Marc Trouyet, Consul General
Consulate General of France
2200-2 Bloor St E
Toronto ON  M4W 1A8
Telephone: 416-847-1900
Fax: 416-847-1901
Email: info@consulfrance-toronto.org
Website: www.consulfrance-toronto.org
Germany
Mr. Walter Stechel, Consul General
Consulate General of the Federal Republic of Germany
25th Floor
2 Bloor St E
Toronto ON  M4W 1A8
Telephone: 416-925-2813
Fax: 416-925-2818
Email: info@toronto.diplo.de
Website: www.toronto.diplo.de
Ghana
Mr. John Dery-Kpebesani, Consul General
Consulate General of the Republic of Ghana
205-4665 Yonge St
Toronto ON  M2N 0B4
Telephone: 416-848-1015/16
Fax: 416-848-1017
Email: ghanaconsulate@rogers.com
website: www.ghanacon@ghc-ca.com
Great Britain: See United Kingdom
Greece
Mr. Alexandros Ioannidis, Consul General
Consulate General of the Hellenic Republic
600-1075 Bay St
Toronto ON  M5S 2B1
Telephone: 416-515-0133/0134
Fax: 416-515-0209
Email: toronto@mfa.gr
Grenada
Mr. Derrick James, Consul General
Consulate General of Grenada
605-90 Eglinton Ave E
Toronto ON  M4P 2Y3
Telephone: 416-595-1343
Fax: 416-595-8278
E-mail: info@grenadaconsulate.com
Guatemala
Mr. Oscar Palma, Honorary Consul
Consulate General of the Republic of Guatemala
4 Kingboro Rd
Thornhill ON  L3T 6S9
Telephone: 416-994-3060
Fax: 905-762-1959
Guinea
Mr. Mario Do Couto, Honorary Consul
Consulate of the Republic of Guinea
100-1201 Dundas St W
Toronto ON  M6J 1X3
Telephone: 416-904-8429/319-9077
Fax: 416-536-3913
Email: conguitoronto@yahoo.ca
Guyana
Mrs. Satyawattie Sawh, Honorary Consul General
Consulate of the Republic of Guyana
206-505 Consumer Rd
Toronto ON  M2J 4V8
Telephone: 416-494-6040
Fax: 416-494-1530
Haiti
Dr. Eric Pierre, Honorary Consul
Consulate of the Republic of Haiti
1st Floor
902 Bathurst St
Toronto ON  M5R 3G3
Telephone: 416-538-3282
Fax: 416-538-3155
Hungary
Mrs. Stefánia Szabó, Consul General
Consulate General of Hungary
South Tower
1109-175 Bloor St E
Toronto ON  M4W 3R8
Telephone: 647-349-2550
Fax: 647-349-2559
Email: mission.tor@mfa.gov.hu
Website: http://www.mfa.gov.hu/kulkepviselet/TORONTO/HU
Iceland
Mr. Jon Johnson, Honorary Consul General
Consulate General of Iceland
Bay Adelaide Centre
3400-333 Bay St
Toronto ON  M5H 2S7
Telephone: 416-979-6740
Fax: 416-979-1234
Email: jonrjohnson@rogers.com
India
Mr. Dinesh Bhatia, Consul General
Consulate General of the Republic of India
700-365 Bloor St E
Toronto ON  M4W 3L4
Telephone: 416-960-0751
Fax: 416-960-9812
Email: cgindia@cgitoronto.ca
Website: www.cgitoronto.ca
Indonesia
To be confirmed, Consul General
Consulate General of the Republic of Indonesia
129 Jarvis St
Toronto ON  M5C 2H6
Telephone: 416-360-4020
Fax: 416-360-4295
Email: consular@indonesiatoronto.org
Website:www.kemlu.go.id/toronto/
Israel
Mr. D.J. Schneeweiss, Consul General
Consulate General of Israel
700-180 Bloor St W
Toronto ON  M5S 2V6
Telephone: 416-640-8500
Fax: 416-640-8555
Italy
Mr. Giuseppe Pastorelli, Consul General
Consulate General of the Italian Republic
136 Beverley St
Toronto ON  M5T 1Y5
Telephone: 416-977-1566
Fax: 416-977-1119
Email: console.toronto@esteri.it
Website: www.constoronto.esteri.it
Jamaica
Mr. Lloyd Wilks, Consul General
Consulate General of Jamaica
303 Eglinton Ave E
Toronto ON  M4P 1L3
Telephone: 416-598-3008
Fax: 416-598-4928
Email: congentoronto@on.aibn.com
Website: www.congenjamaica-toronto.com
Japan
Mr. Yasunori Nakayama, Consul General
Consulate General of Japan
Royal Trust Tower
3300-77 King St W
PO Box 10
Toronto ON  M5K 1A1
Telephone: 416-363-7038
Fax: 416-367-9392
Email: access@japancg-toronto.org
Website: www.toronto.ca.emb-japan.go.jp
Kazakhstan
Mr. Murat Seitov, Consul
Consulate of the Republic of Kazakhstan
413-4576 Yonge St
Toronto ON  M2N 6N4
Telephone: 416-221-0111
Fax: 416-221-6323
Email: kazconsultoronto@gmail.com
Korea
Mr. Jeong-sik Kang, Consul General
Consulate General of the Republic of Korea
555 Avenue Rd
Toronto ON  M4V 2J7
Telephone: 416-920-3809
Fax: 416-924-7305
Email: toronto@mofat.go.kr
Latvia
Mr. Imants Purvs, Honorary Consul
Consulate of the Republic of Latvia
4 Credit Union Dr
Toronto ON  M4A 2N8
Telephone: 416-516-9042
Fax: 416-588-2081
Email: ImantsPurvs@aol.com
Lebanon
Honorary Consul
Consulate of the Lebanese Republic
2224 Dundas St W
Toronto ON  M6R 1X3
Telephone: 416-530-2121
Fax: 416-536-8012
Lithuania
Mr. Paul Kuras, Honorary Consul
Consulate of the Republic of Lithuania
1573 Bloor St W
Toronto ON  M6P 1A6
Telephone: 416-538-2992
Fax: 416-201-8993
Email: pvk@rogers.com
Website: www.ca.mfa.lt
Luxembourg
Mrs. Shauneen Bruder, Honorary Consul
Consulate of the Grand Duchy of Luxembourg
c/o RBC WaterPark Place, 19th Floor
88 Queen's Quay West
Toronto, ON  M5J 0B8
Telephone: 416-955-7767
Fax: 416-955-8686
Email: shauneen.e.bruder@rbc.com
Consulates: M-Z
Mr. Jovica Palashevski, Consul General
Consulate General of the Republic of Macedonia
210-90 Eglinton Ave E
North York ON  M4P 2Y3
Telephone: 416-322-2196
Fax: 416-322-2412
Malaysia
Mr. Ahmad Shanizam Bin Ab Ghani, Consul and Trade Commissioner
Consulate of Malaysia – Trade Office
First Canadian Place
5130-100 King St W
PO Box 389
Toronto ON  M5X 1E2
Telephone: 416-504-6111
Fax: 416-504-8315
Email: Toronto@matrade.gov.my
Website: www.matrade.gov.my
Mali
Mrs. Patricia Luna, Honorary Vice-Consul
Consulate General of the Republic of Mali
519 Spadina Rd
Toronto ON  M5P 2W6
Telephone: 416-489-4849
Fax: 416-489-0379
Malta
Ms. Hanan El Khatib, Consul General
Consulate General of the Republic of Malta
10th Floor
SunLife Financial Centre - Centre Tower
3060-3300 Bloor St W
Toronto ON  M8X 2X3
Telephone: 416-207-0922
Fax: 416-207-0986
Email: maltaconsulate.toronto@gov.mt
Mauritius
Mr. Banwari Lal Sennik, Honorary Consul
Consulate of the Republic of Mauritius
3431 McNicoll Ave
Toronto ON  M1V 2V3
Telephone: 416-754-2747
Fax: 416-754-7905
Email: bensennik@desbrocanada.com
Mexico
Mr. Juan M. Toussaint Ribot, Consul General
Consulate General of the United Mexican States
350-11 King St W
Toronto ON  M5H 4C7
Telephone: 416-368-2875
Fax: 416-368-0676
Email: cgmtoronto@consulmex.com
Website: www.consulmex.com
Moldova
Mr. George Oprea, Honorary Consul
Consulate of the Republic of Moldova
48 Lesmill Rd
Toronto ON  M3B 2T5
Telephone: 416-543-6799
Fax: 416-494-9389
Monaco
Mr. Bernard Lette, Honorary Consul General
Consulate General of the Principality of Monaco
3300-20 Queen St W
PO Box 33
Toronto ON  M5H 3R3
Telephone: 416-971-4848
Fax: 416-971-4849
Email: Monaco.toronto@lette.com
Mongolia
Mr. David Tsubouchi, Honorary Consul
Consulate of Mongolia
307-240 Alton Towers Cir
Toronto ON  M1V 3Z3
Telephone: 416-298-0863
Fax: 416-298-4909
Email:davidtsubouchi@deducemarkets.com
Morocco
Mr. Ralph Edward Lean, Honorary Consul
Consulate of the Kingdom of Morocco
1 First Canadian Place
1600-100 King St W
Toronto ON  M5X 1G5
Telephone: 416-862-7525
Fax: 416-862-7661
Email: ralph.lean@gowlings.com
Myanmar
The Hon. Bryon Wilfert, P.C., Honorary Consul
Consulate of the Republic of the Union of Myanmar
110 Eleanor Cir
Richmond Hill ON  L4C 6K7
Telephone. 416-409-9930
Email: hc.wilfert@bell.net
Namibia
The Hon. Walter McLean, P.C., Honorary Consul
Consulate of the Republic of Namibia
122 Avondale Ave S
Waterloo ON  N2L 2C3
Telephone: 519-578-5932
Fax: 519-578-7799
Nepal
Dr. Kunjar Sharma, Honorary Consul General
Nepalese Consulate General
707-120 Eglinton Ave E
Toronto ON  M4P 1E2
Telephone: 416-975-0910
Fax: 416-322-2928
Email: info@kunjarsharma.com
Netherlands
Mr. Anne van Leeuwen, Consul General
Consulate General of the Kingdom of the Netherlands
2106-1 Dundas St W
PO Box 2
Toronto ON  M5G 1Z3
Telephone: 416-598-2534
Fax: 416-598-8064
Email: tor-cdp@minbuza.nl
New Zealand
Mr. Phillip Crawley, Honorary Consul
New Zealand Consulate
444 Front St W
Toronto ON  M5V 2S9
Telephone: 416-585-5880
Fax: 416-585-5150
Nicaragua
Mr. Robert Douglas Sirrs, Honorary Consul
Consulate of the Republic of Nicaragua
10 Lyndhurst Cres
Whitby ON  L1R 1E2
Telephone: 905-430-0572
Fax: 905-430-5327
Email: douglas.sirrs@sympatico.ca
Norway
Mrs. Marianne Koritzinsky, Honorary Consul General
Royal Norwegian Consulate General
2109-2 Bloor St W
Toronto ON  M4W 3E2
Telephone: 416-920-5287
Fax: 416-920-5982
Email: rncg@trellcan.com
Website: http://www.emb-norway.ca/
Pakistan
Mr. Asghar Ali Golo, Consul General
Consulate General of the Islamic Republic of Pakistan
14-7880 Keele St
Vaughan ON  L4K 4G7
Telephone: 905-532-0042
Fax: 905-532-9531
Email: pakconsulate@pakmission.ca
Website: www.pakmission.ca
Panama
Consul General
Consulate General of the Republic of Panama
211-2788 Bathurst St
Toronto ON  M6B 3A3
Telephone: 416-651-2350
Email: info@consulatepanama.com
Website: www.consulatepanama.com
Paraguay
Mr. Masayuki Toyotoshi, Honorary Consul
Consulate of the Republic of Paraguay
2950 Argentia Rd
Mississauga ON  L5N 8C5
Peru
Mrs. Mary Ann Silva de Espinosa, Consul General
Consulate General of the Republic of Peru
301-10 St. Mary St
Toronto ON  M4Y 1P9
Telephone: 416-963-9696
Fax: 416-963-9074
Email: info@conperutoronto.com
Philippines
Mrs. Rosalita Prospero, Consul General
Consulate General of the Republic of the Philippines
7th Floor
160 Eglinton Ave E
Toronto ON  M4P 3B5
Telephone: 416-922-7181
Fax: 416-922-2638
Email: consularmatters@philcongen-toronto.com
Poland
Mr. Grzegorz Morawski, Consul General
Consulate General of the Republic of Poland
2603 Lakeshore Blvd W
Toronto ON  M8V 1G5
Telephone: 416-252-5471
Fax: 416-252-0509
Email: poltorkg@on.aibn.com
Website: www.poland-canada.org
Portugal
Mr. Luis Barros, Consul General
Consulate General of the Portuguese Republic
1400-438 University Ave
PO Box 41
Toronto ON  M5G 2K8
Telephone: 416-217-0966
Fax: 416-217-0973
Consulates: R-Z
Romania
Consul General
Consulate General of Romania
789 Don Mills Road, Unit 501
Toronto, ON   M3C 1T9
Telephone: 416-585-5802
Fax: 416-585-4798
Email: toronto.cg@mae.ro
Website: www.romaniacanada.com
Russia
Mr. Vladimir Pavlov, Consul General
Consulate General of the Russian Federation
South Tower
801-175 Bloor St E
Toronto ON  M4W 3R8
Telephone: 416-962-9911
Fax: 416-962-6611
Email: rusconsul@bellnet.ca
Website: www.toronto.mid.ru
Rwanda
Mr. William S. Deluce, Honorary Consul
Consulate of the Republic of Rwanda
141 Adelaide St W
Toronto ON  M5H 3L5
Telephone: 416-304-0600
Fax: 416-304-0669
Saint Kitts and Nevis
Mr. John Allen, Honorary Consul
Consulate of the Federation of Saint Christopher and Nevis
311-133 Richmond St W
Toronto ON  M5H 2L3
Telephone: 416-368-6707
Fax: 416-368-3934
Saint Lucia
Mr. Michael Willius, Consul General
Consulate General of Saint Lucia
909-60 St. Clair Ave
Toronto ON  M4T 1N5
Telephone: 416-203-8400
Fax: 416-203-8486
Email: info@stluciaconsulate.ca
Website: www.stluciaconsulate.ca
Saint Vincent and the Grenadines
Mr. Dorian Vian Fitzgerald Huggins, Consul General
Consulate General of Saint Vincent and the Grenadines
624-55 Town Centre Crt
Toronto ON  M1P 4X4
Telephone: 416-398-4003/4277
Fax: 647-438-5312
Serbia
Mr. Vladimir Pavlov, Consul General
Consulate General of the Republic of Serbia
701-40 Eglinton Ave E
Toronto ON  M4P 3A2
Telephone: 416-483-1080
Fax: 416-483-1847
Email: gkrstoronto@rogers.com
Website: www.gktoronto.com
Seychelles
Mr. Stuart Miller, Honorary Consul
Consulate of the Republic of Seychelles
18 Doon Rd
Toronto ON  M2L 1L9
Telephone: 416-256-1947
Email: stumiller@rogers.com
Singapore
Mr. Chia-yi Chua, Honorary Consul General
Consulate General of the Republic of Singapore
5300-66 Wellington St W
Toronto ON  M5K 1E6
Telephone. 416-601-7979
Fax: 416-868-0673
Email: cchua@mccarthy.ca
Slovak Republic
Mr. Michael Martincek, Honorary Consul General
Consulate General of the Slovak Republic
649 Brooker Ridge
Newmarket ON  L3X 1V7
Telephone: 647-290-9304
Fax: 905-898-0166
Email: slovakconsulateto@gmail.com
Slovenia
Mr. John Doma, Honorary Consul General
Consulate General of the Republic of Slovenia
2nd Floor
747 Brown's Line
Toronto ON  M8W 3V7
Telephone: 416-201-8307
Email: jdoma@sloveniacg.com
South Africa
Mr. Nyameko Goso, Consul General
Consulate General of the Republic of South Africa
600-110 Sheppard Ave E
Toronto ON  M2N 6Y8
Telephone: 416-944-8825
Fax: 416-944-0925
Email: toronto@foreign.gov.za
Spain
Mr. Pablo Ruiz-Jarabo, Consul General
Consulate General of the Kingdom of Spain
1201-2 Bloor St E
Toronto ON  M4W 1A8
Telephone: 416-977-1661
Fax: 416-593-4949
Email: cgspain.toronto@mail.mae.es
Website:www.consulateintoronto.maec.es
Sri Lanka
Uthman Mohammed Jauhar, Consul General
Consulate General of the Democratic Socialist Republic of Sri Lanka
301-36 Eglinton Ave W
Toronto ON  M4R 1A1
Telephone: 416-323-9133
Fax: 416-323-3205
Email: srilanka@bellnet.ca
Website: www.torontoslcg.org
Sweden
Mr. Lars Henriksson, Honorary Consul General
Consulate General of Sweden
2109-2 Bloor St W
Toronto ON  M4W 3E2
Telephone: 416-963-8768
Fax: 416-923-8809
Switzerland
Honorary Consul
Consulate of the Swiss Confederation
Email: Toronto@honrep.ch
Websites: www.eda.admin.ch/canada
Thailand
Mr. George J. Heller, Honorary Consul General
Royal Thai Consulate General
100-17 Isabella St
Toronto ON  M4Y 1M7
Telephone: 416-850-0110
Fax: 416-850-1431
Email: info@thaiconsulatetoronto.com
Website:www.thaiconsulatetoronto.com
Togo
To be confirmed, Honorary Consul
Consulate of the Togolese Republic
205-2323 Yonge St
Toronto ON  M4P 2C9
Telephone: 416-488-5323 ext. 28
Fax: 416-488-3716
Trinidad and Tobago
To be confirmed, Consul General
Consulate General of the Republic of Trinidad and Tobago
185 Sheppard Ave W
Toronto ON  M2N 1M9
Telephone: 416-495-9443
Fax: 416-495-6934
Email: congen@ttcgtoronto.gov.tt
Website: http://ttcgtoronto.gov.tt/
Turkey
Mr. Erdeniz Sen, Consul General
Consulate General of the Republic of Turkey
300-10 Lower Spadina Ave
Toronto ON  M5V 2H6
Telephone: 647-777-4106
Fax: 647-258-2725
Email: consulate.toronto@mfa.gov.tr
Website: www.toronto.bk.mfa.gov.tr
Uganda
Mr. Navin Chandaria, Honorary Consul
Consulate of the Republic of Uganda
41 Lesmill Rd
Toronto ON  M3B 2T3
Ukraine
Head of Consular Post
Consulate General of Ukraine
301-2275 Lakeshore Blvd W
Toronto ON  M8V 3Y3
Telephone: 416-763-3114
Fax: 416-763-2051
Email: gc_cat@mfa.gov.ua
United Arab Emirates
Mr. Sultan Ali Sultan Al Harbi, Consul General
160 Bloor Street East, Suite 1404
Toronto, ON  M4W 1B9
Telephone: 416-238-7666
E-mail: Torontocon@mofaic.gov.ae
United Kingdom
Mr. Kevin McGurgan, Consul General
British Consulate General
2800-777 Bay St
Toronto ON  M5G 2G2
Telephone: 416-593-1290
Fax: 416-593-1229
United States
Mr. Juan Alsace, Consul General
Consulate General of the United States of America
360 University Ave
Toronto ON  M5G 1S4
Telephone: 416-595-1700
Fax: 416-595-0051
Email: torontoPA@state.gov
Uruguay
Ms Silvana Montes de Oca, Consul General
Consulate General of Uruguay
302-300 Sheppard Ave W
Toronto ON  M2N 1N5
Telephone: 416-730-1289
Fax: 416-730-0192
Venezuela
Mrs. Martha Pardo de Marquez, Consul General
Consulate General of the Bolivarian Republic of Venezuela
1904-365 Bloor St E
Toronto ON  M4W 3L4
Telephone: 416-960-6070
Fax: 416-960-6077
Website: www.consulventoronto.com (Spanish only)