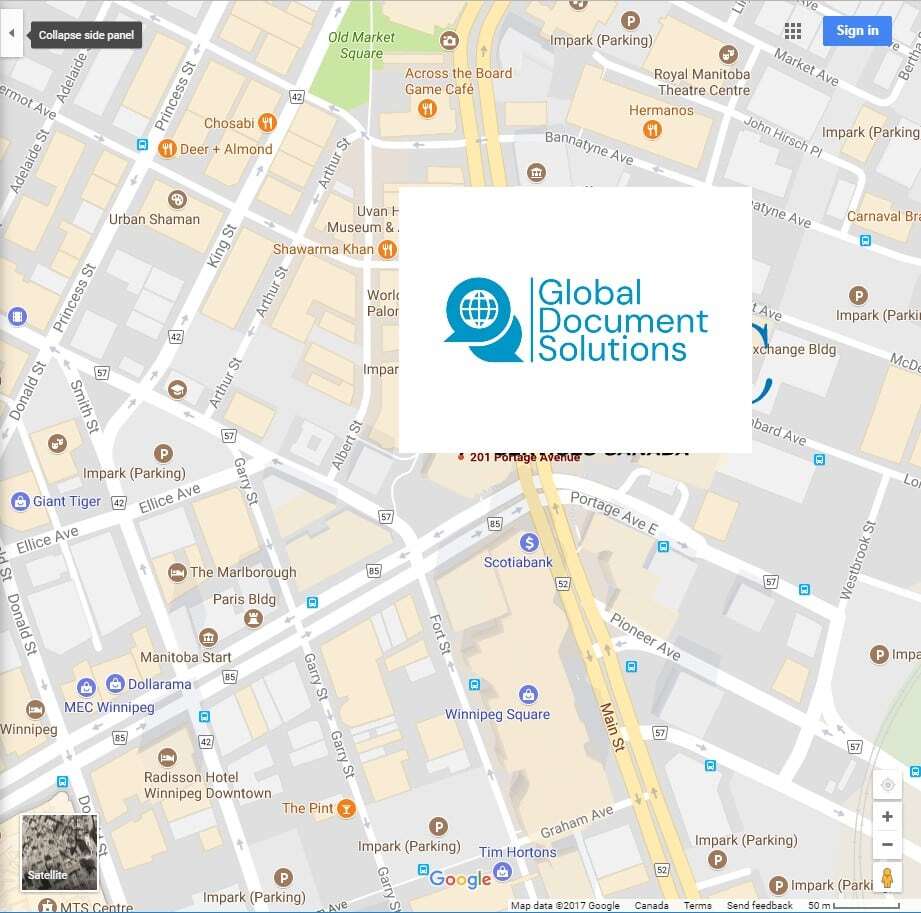 Winnipeg Authentication and Legalization Services
For Winnipeg residents seeking to have their documents authenticated and legalized for international use, Global Document Solutions Winnipeg service center is the solution. Our center, located at 201 Portage Ave on the 18th floor, is the Canadian leader in authentication and legalization, a process that is equal to the international apostille. With 30 years of experience in making Canadian documents globally recognized, we specialize in a wide range of documents, including birth certificates, marriage certificates, degrees from universities such as the University of Manitoba and the University of Winnipeg, Manitoba corporate documents, and more.
Our Winnipeg service center offers FREE priority courier service to our head office in Ottawa, which is located minutes away from Global Affairs Canada and most embassies. After the authentication process is complete, you can either pick up your documents at our center or have them shipped anywhere in the world through our shipping partners.
Global Affairs Authentication in Ottawa
Whether you have a birth certificate, marriage certificate, degree, or corporate document, our experts can ensure that it is ready for international use. If you are unsure about the type of document required for authentication at Global Affairs Canada, our consultation service will help you determine the correct type. It is important to note that Global Affairs authentication is not the same as provincial authentication, and most embassies only accept Foreign Affairs authentication to legalize your document. Our experts will ensure that your documents are properly authenticated for acceptance at the embassy or consulate.
Apostille Services in Winnipeg – We're Here to Help!
If you have been asked to get an apostille for your documents, rest assured that the combination of authentication and legalization in Canada is equivalent to the apostille. The main difference between the apostille and authentication and legalization is that the apostille is a one-step process that makes your documents valid for use in all countries that have signed the Hague Apostille Convention, while authentication and legalization is a two-step process that makes your documents valid only in the country where they were legalized at the embassy or consulate.
Whether you need your university degree, high school diploma, birth certificate, marriage certificate, or corporate documents authenticated and legalized for international use, our service centers can save you time, effort, and shipping costs. Choose the professionals at Global Document Solutions for fast and easy authentication and legalization.