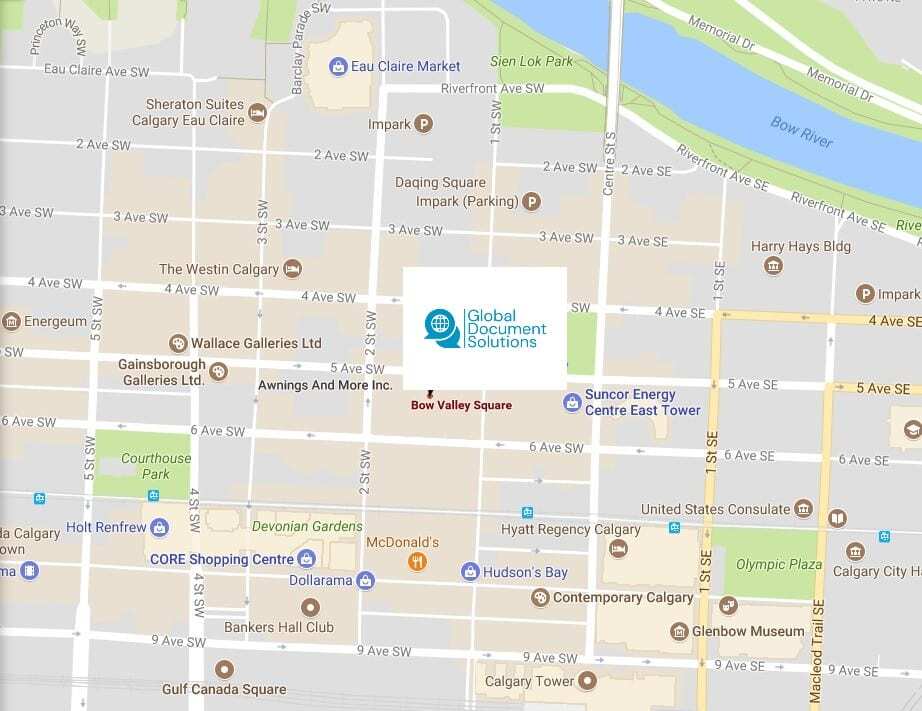 Calgary Apostille or Authentication & Legalization Services
At Global Document Solutions, we have been providing professional document validation services for 30 years. Our Calgary Global Document Solutions Service Center is located at Suite 3300, 205-5th Avenue SW, Bow Valley Square 2 and is here to make the process easy and stress-free for those in need.
Many of our clients are confused by the process of validating official documents for use in a foreign country. With numerous websites offering conflicting information, it can be difficult to know where to turn. At Global Document Solutions, we understand this confusion and specialize in Canadian document authentication and legalization.
We Can Help You With Your International Document!
It is important to note that Canada is not a signatory of the Hague Apostille agreement and therefore, Canadian issued documents cannot be stamped with an Apostille. Instead, Canada uses a validation process known as authentication and legalization. We talk more about Apostille and why you cannot get one in Canada here.
Alberta Authentication of Documents
The first step in validating an Alberta document for international use is authentication. This process can be done through the Alberta Deputy Provincial Secretary's Office, or through Global Affairs Canada in Ottawa. Global Affairs Canada is the preferred method for international authentication as they can authenticate most official documents from Alberta, including original documents, notarized copies, and documents sworn by an Alberta Notary. Our experts will assist in determining if your document is suitable for authentication at Global Affairs Canada and guide you through the process.
Authentication of Documents at Global Affairs Canada
Global Affairs Canada, unlike the Alberta Deputy Provincial Secretary's Office, can authenticate most official documents that originate from Alberta. This includes originals, notarized copies and documents that have been sworn by an Alberta Notary. Depending on the type of document that you have Global Affairs has certain requirements that must be followed in order for them to authenticate your document. After reviewing your document one of our experts will determine if it qualifies and give you some options as to how you can proceed. If you are not sure whether your document is the correct type for Authentication at Global Affairs Canada, not to worry, our consultation will confirm it.
Legalization at Embassy Consulate – Final Step of International Document Validation
After we have authenticated your document it's ready for legalization at the embassy consulate of the country in which you will be using it. There is a good chance that the country will not have an embassy consulate in Alberta since most are located in Ottawa. The step of legalization is also called Attestation or Super Legalization in some countries but they mean the same thing. What it means is that the countries consulate has confirmed the authentication signature and stamp of Global Affairs Canada. In some cases they will attach a certificate but in most cases they will sign and stamp the document with their official seal. Now that the two steps of authentication at Global Affairs Canada and legalization at the embassy has taken place you can now use your document in that country for official purposes.
Speak with one of our experts about using your Canadian document internationally and how we can help.