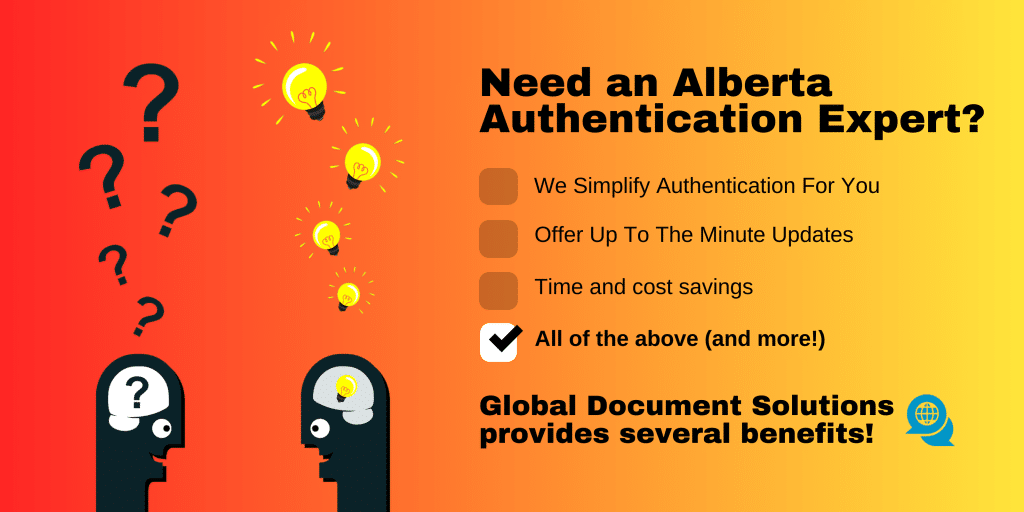 Alberta Document Authentication Service Experts
Document Authentication in Alberta has never been easier when using the services of Global Document Solutions. Serving clients in Calgary and Edmonton and other parts of the province over the past 30 years has made us the go to experts.  
Although Global Affairs Canada has suspended same day service, The Alberta Department of Justice has continued to provide quick services. This has allowed us to offer our clients a faster alternative to Global Affairs Canada long processing time. The question for our experts will be if your document qualifies for the process and whether it will be accepted for legalization at the countries embassy you will be using it in. 
Alberta Authentication Requirements
The need for official documents comes up when a person or business is conducting important matters in a foreign country. As an example, for individuals this could include a new birth, employment, marriage, continuing education, or other life matters. For an Alberta business this could mean you are providing various corporate documents or powers of attorney to set up new markets or support ongoing affairs in a foreign country. Whatever the purpose our experts will be able to assist you. 
The Alberta Department of Justice requirements are simple being that if the document is Notarized in Alberta it can be authenticated. They do not verify the content of a document their purpose is to verify the seal, stamp, and signature of the of Alberta Notary Public for taking affidavits who have been appointed by the Ministry. If you have a vital statistic document like a birth, marriage, or death certificate that has been issued by the Registrar General of Alberta then the Alberta Department of Justice can authenticate it without it being notarized.  
Types of Documents Alberta Department of Justice Authenticates
The Alberta Department of Justice authenticates all types of documents. Below is a list of some of the more common ones. If you don't see your document listed below speak with one our friendly specialists they will be able to provide you more information.
Adoption

Affidavits

Agent Authorization Letter

Assignments

Birth Certificate

CPP Certificate

Commercial Invoice

Certificate of Free Sale
Certificate of Origin

Corporate Documents

Court documents

Death Certificate

Degree, Diploma Transcripts

Divorce Certificate

GMP Certificate

Health Canada Certificates
Medical Device Licence

International Trade Certificates

Marriage Certificate

Passport

Police Check

Power of Attorney

Property Deeds

Teachers Certificate
Alberta Department of Justice Document Authentication FAQ"s
This depends on what time of the day we receive your document and whether it needs extra attention to meet Alberta authentication requirements. As an example, it could be done as quickly as 5-7 business days. 
No, they can either authenticate the original document, if it has an official signature recognized by Alberta Department of Justice or a notarized copy made by a Alberta Notary. The authentication process requires the document to be physically present because it is reliant on the official signature on the document and not the content of the document. What the Alberta Department of Justice is doing when authenticating a document is verifying the official signature on your document and confirming it matches the one in their registry. If the document is a digital scan or photocopy there is no real signature to authenticate only a copy of a signature. If you need help with sending your document to us for authentication, simply ask your Global Document Solutions agent about our easy shipping solutions.
When using a document internationally it's important to check with the requesting party in-country for requirements to find out the correct type of document that you need. In most cases, they will need you to provide your document in a certain format style or the original document itself. To reiterate, in no way can a digital scan or photocopy of a document be authenticated with the Alberta Department of Justice.
Our fees for processing your documents are broken down into steps. For a cost estimate based on your specific needs, Request a Quote or call 1-800-336-1132 from anywhere in North America and an Global Document Solutions agent who would be happy to help.
If you have been asked to validate your document for official purposes in a foreign country you want to get it right the first time. Time is of the essence for most of our clients, the sooner it's done, the sooner you can move on with the important matter related to why you have been asked to authenticate the document. With Global Document Solutions having locations in Calgary and Edmonton offering free shipping we save you time and money. Our Global Document Solutions order status tracker and up to the minute email updates provide peace of mind throughout the process. Global Document Solutions saves you time giving you Canada's international document experts on your side to answer any question you may have with the utmost customer service. For our clients, this is what differentiates Global Document Solutions from navigating the public service on their own they want an expert to guide them.
Not always but in some cases, you may want to make a notarized copy of your original document to keep it in pristine shape for use in the future. For those clients that must have their document notarized, it is because their document does not have an official signature on it that is recognized by the Alberta Department of Justice. In these cases, you will need to have your document notarized by a Alberta Notary. This is a service we can provide if you send the original document to our office our Notary will ensure it meets the requirements. If you need Notary services simply ask your Global Document Solutions agent. 
Some documents such as an Alberta birth, marriage, or death certificate issued by the Ministry can be authenticated as is and do not need further attention. If you are not sure about your document not to worry your personal agent will review your document to clarify if any extra steps are needed. 
No unfortunately it will not be accepted in some countries but if it has been legalized by the countries Embassy Consulate in Canada it may meet the requirements. As this is determined on what country it is being used in and the type of document it is best to speak with one of our experts.