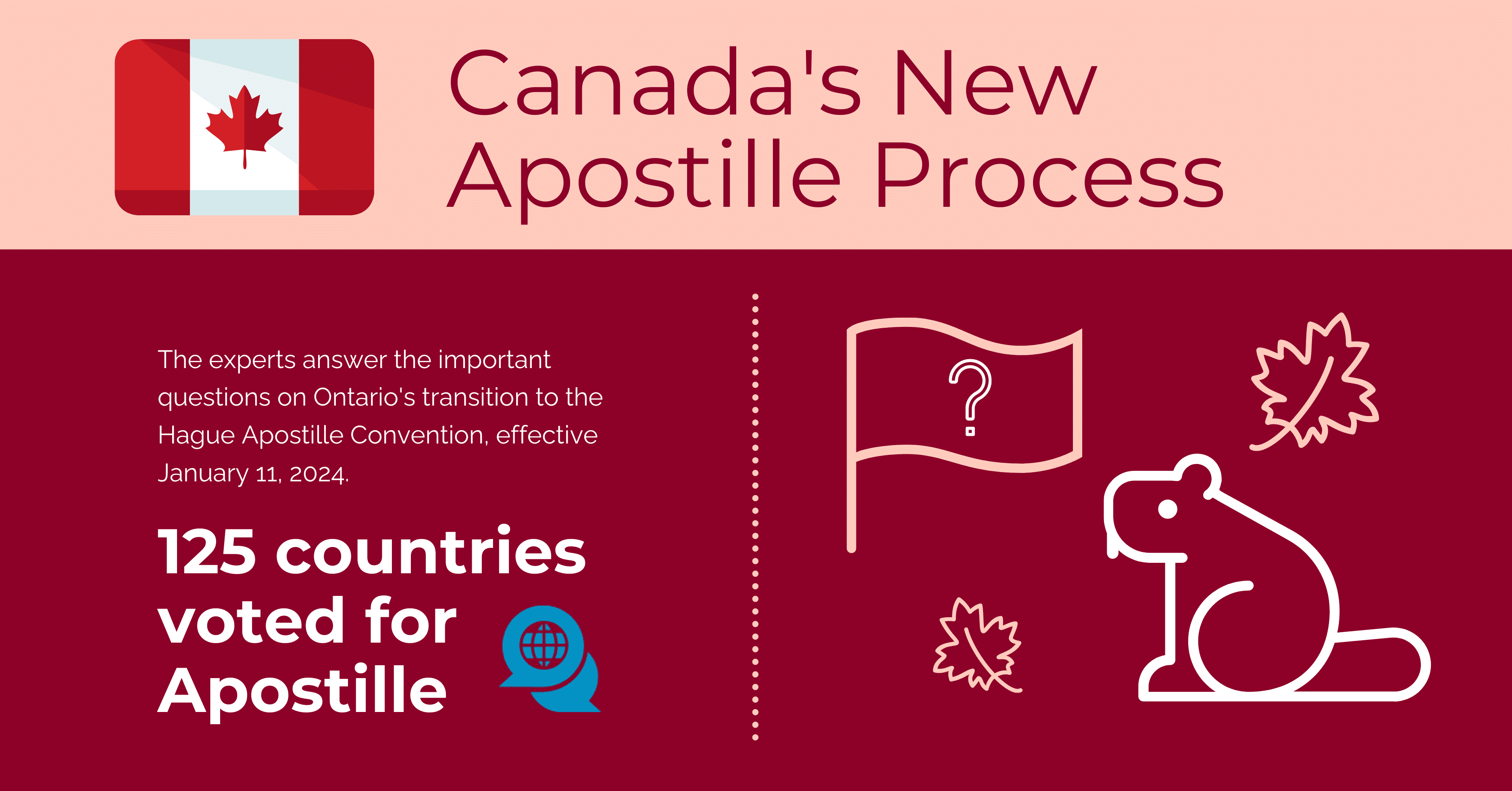 Canada Adopts the Apostille Convention: A Revolutionary Step in Document Authentication
Paving the Way to Simplify International Documentation Process
In a historic move, Canada has taken a significant leap by joining the Apostille Convention, otherwise known as the Hague Convention Abolishing the Requirement of Legalisation for Foreign Public Documents. This pivotal step has far-reaching implications for the authentication and legalization of public documents, providing a much-needed reprieve for citizens and businesses operating across international borders. The Apostille Convention will come into effect in Canada on January 11, 2024.
Understanding the Apostille Convention
The Apostille Convention, introduced in 1961, was designed to streamline the validation of public documents to be used overseas. It replaces the time-consuming and often complex chain authentication process with a single certification – the Apostille.
What Does Canada Joining the Apostille Convention Mean?
By joining the Apostille Convention, Canada has become part of an international framework aimed at facilitating the use of public documents abroad. With this move, Canadian citizens and corporations now have a simplified path to authenticate and legalize their documents to be used internationally.
The inclusion in the Apostille Convention means that Canada has further bolstered its commitment to reducing bureaucratic hurdles for its citizens and enterprises, creating a more seamless global operation.
graph TD A[Canada Joins Apostille Convention] B[Simplified Authentication Process] C[Enhanced International Recognition] D[Reduced Bureaucratic Hurdles] E[Increased Efficiency for Citizens and Corporations] A --> B A --> C A --> D A --> E
Benefits for Canadian Citizens and Corporations
The benefits of Canada joining the Apostille Convention extend beyond just simplifying the legalization process. The repercussions are far-reaching and transformative for both individuals and businesses alike.
Streamlined Document Authentication
For Canadian citizens, the Apostille Convention eliminates the need for multi-tiered, complicated authentication procedures for documents intended for international use. A single Apostille is now sufficient for a document to be accepted in any of the other Convention member countries.
Broadened International Recognition
From a business perspective, the Apostille Convention opens doors to more expansive international recognition. Canadian enterprises operating overseas can now streamline their operations and avoid unnecessary administrative procedures, a potential game-changer for multinational corporations.
Ease of Doing Business
Canada's participation in the Apostille Convention fundamentally changes the landscape of international business operations. It makes it easier for Canadian businesses to operate in foreign jurisdictions, which, in turn, has positive implications for the country's economic growth and competitiveness.
In Conclusion
Canada's decision to join the Apostille Convention is more than just a commitment to international collaboration; it's a monumental stride towards improved efficiency in public document use abroad. The move highlights Canada's dedication to reducing bureaucratic red tape and improving the ease of doing business, thereby directly benefiting its citizens and corporations with interests across international borders. This move fortifies Canada's standing on the global stage, paving the way for a more connected and efficient international environment.